URL: http://nurse.swu.ac.th
Phone: (662) 649-5000 ext.1800
Mobile: (6689) 922-2549
Fax (662) 649-5000 ext.1823, (6637) 395108

The Faculty of Nursing has been meeting the need for highly qualified professional nurses since 1997. The Faculty educates all its students to provide exemplary nursing care with concern, sensitivity and the utmost respect for patients and their families. Thanks to its progressive and humanistic outlook, the Faculty is equipping future nurses to excel in the complex, patient-oriented world of modern nursing.

The Faculty includes five departments and one center: Adult Nursing, Pediatric Nursing, Maternal Child Nursing and Midwifery, Community Health Nursing, Mental Health and Psychiatric Nursing, and the Learning Resource Center. The program of study comprises four years of general nursing education leading to a Bachelor of Nursing Science (B.N.S.) degree. Approximately one hundred new students enroll each year. These students are selected by means of a competitive national entrance examination.

In 2009, the Faculty will launch two new programs, admitting twenty students per year to a four-year bilingual language nursing program and fifteen students per year to a Master's program in Primary Medical Care and Community Health Nursing.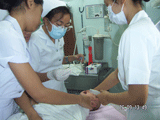 PROGRAM:

Bachelor of Nursing Science (B.N.S.)